Many of us have the Sigma 150-600mm C lens. It's one of the best value super-telephotos out there. For all of it's great points, it does have a shortcoming in the tripod foot. Literally, it's too short.
Don't we just have to install a long Arca-Swiss quick-release plate and it's all good? Not quite there. Here is the lens tripod collar removed.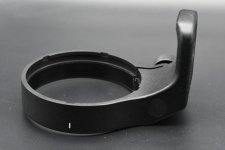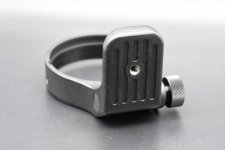 Problem we have here is that there is only a single threaded hole for mounting the Arca plate. For a lens of this weight with the foot nowhere near the balance point, simple gravity pull will make the lens twist free at a bad time. It's also a poor handle for carrying the lens. As an aside, Kirk Photo has a different solution to this, and I would recommend that for those unwilling to take a drill to an aftermarket part like I am going to discuss here. Link at the end of post.
There is available on Ebay and sometimes Amazon or Ali Express an aftermarket lens collar for this particular lens. I bought one years ago as my solution to the lens twisting. It has a built-in Arca-Swiss mount foot.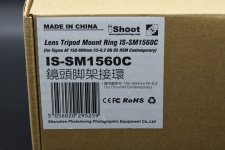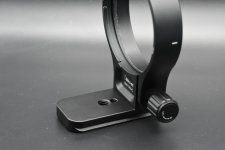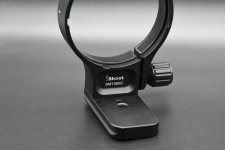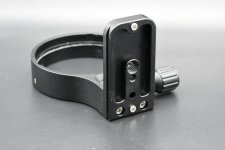 It is shaped more squared than the OEM collar, so it can be too tight for fingers at the handgrip if the lens is rotated to that direction. It also is far too short to properly balance, even when at the 150mm position. On a gimbal head, this just won't do.
Ideally the foot needs to be about 125-130mm long. That reaches the balance point at 600mm and a typical Arca-Swiss clamp will fully contact. I cannot find a plate that length in my searches. 150mm would do, they are a lot more rare to find than 120mm Arca plates. I am doing my mod here with a 120mm long plate that I had as a spare in the house. The 120mm mount plate is going to replace the iShoot lens collar foot.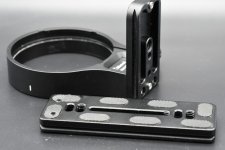 I already did my drilling before the photo shoot. It involved removing the 2 screws holding the iShoot foot, and using the holes as my template to drill the holes into the Arca plate. I had to move holes a bit forward by a millimeter or 2 so they could clear the thick material at the edge. I removed the safety stop screws and taped the plates together, placed into a vice, and put the drill bit through the original plate's holes and started drilling the holes. I removed the guide and finished drilling the holes. I used some machine oil to lubricate the drill bit here. Even with all this the holes became offset to one side just a bit. I had to cut them a bit oval to make things line up. I had to test-fit and adjust the holes a couple of times before it was right.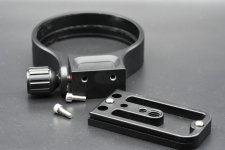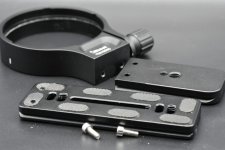 The finished modification. This is a very minimalist mod, and completely reversible for the lens. Even the 120mm Arca plate could be used otherwise for the most part. I can balance the lens at 600mm in my gimbal now, but I have to move this back about 5-6mm in the Arca-Swiss clamp so it is not fully gripped. But it's gripped about 90%, which is fine for this lens. And just as important, you can use it as a proper carry handle. It's balanced in the hand and does not fatigue your grip. This may not be the right solution if you are carrying your rig on a sling.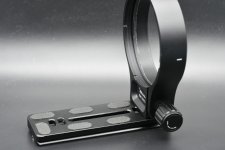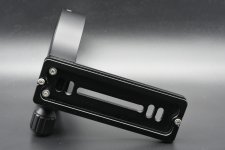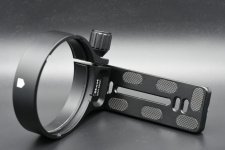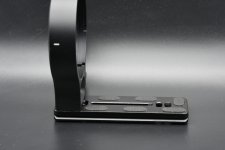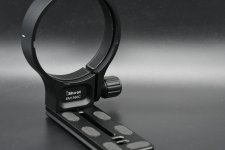 Now here is the Kirk Photo solution using the original lens collar and foot. They sell an Arca plate with a bar that rests against the edge of the foot to prevent the lens from twisting free. Their recommended product for this Sigma lens is in this link.
https://kirkphoto.com/lens-mounting/sigma/150-600mm-f-5-6-3-dg-os-hsm-contemporary/lens-plate-for-sigma-150-600mm-f-5-6-3-dg-os-hsm-contemporary.htm
l
I however recommend a different plate they sell that is more generic. The recommended plate is still a problem as it is not the recommended 130mm or longer. I think this one would work better, but it includes more parts on it that needed.
https://kirkphoto.com/lens-mounting...ates/universal-multi-use-lens-plate-5-25.html