A virtually
NIB
condition F5! Not a mark on it, it is absolutely
spotless
inside and out. I have some Tri-X already loaded, going out tomorrow and have some fun!
The F5 is truly the "Granddaddy" of the modern day DSLR. All of it's novel features it has; command wheels instead of knobs, an integrated grip and digital readouts in the finder, small buttons along with menu items to change key parameters (though admittedly the F5 menus are pretty primitive compared to today's menus but it is also a film camera with a lot less to actually be able to change) are now standard on nearly ALL DSLR's regardless of manufacture with the exception of the Nikon Df, but that was by totally by intentional design. When it first came it out it was touted as the finest 35mm ever produced with a price tag to match. I can't even get an entry level, no frills, el cheapo DSLR today for what I paid for this F5.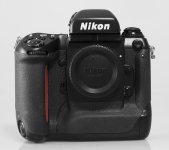 I can always remember when this camera came out, even up today, hearing about what a "beast" the F5 is. I guess "beast" is all relative. I compared it to my D850 with battery grip and a D-5 battery (which runs about an oz. lighter than 8 AA's). The photo below says it all. And with a 36 exp roll of of TX loaded, the F5 STILL comes in about an ounce lighter than the D850 and grip. Both feel amazing in my slightly below average sized hands, but the F5 grip is a little bit more rounded around the vertical edges so it is actually feels a little bit more comfortable. Each have a very differ sound to them but sound about the same to me in terms of loudness. Oh Ch (which I use only VERY rarely), they sound both identical, around 8 fps. Finder brightness appears to be about the same, both are extremely bright. The screens are about the same as far as manual focus discrimination, which is to say, they both pretty much
suck
. The in-focus indicator on the F5 is very positive so I don't think there will be any difficulty until the new screen comes. I immediately replaced the D850 with a split image/microprism screen as soon as I got it and have a similar screen coming for the F5.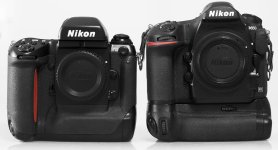 As far as measured weight goes, with a 36 exposure roll of film loaded and 8 AA's loaded, the F5 comes in at 1049 g. The D850, with an XQD and SD card and the D5 battery loaded in the grip, comes in at 1080 g, so a total draw in that regard. It may be a "beast", but it is a "beast" I am totally used to using. Size wise, the F5 is considerably smaller than the D850. both in height, and to a lesser extent, in depth.
I am psyched, I hope the weather holds out tomorrow! I can't wait to see how many people ask me how many MP it has. I will just tell them "35".