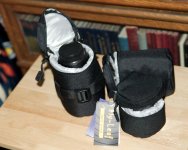 Three "Fly Leaf" YKK padded lens cases / bags. Much better than the cloth bags Nikon provides - Tamron gives you nadda. Bought all three for $23 CDN (free shipping). Shipping took one day shy of a full month (order 24 May, arrived 23 June). When I bought my 24-70mm I bought a padded case in the Camera Store - can't recall exact price but I paid more for that one than all three of these (but I'd say it is better quality). These are acceptable quality. No idea if they will stand up to the regular use but for now a big upgrade over the thin Nikon bags and an upgrade over the Neoprene bags I have been using. Those bags are cheaper and available readily on ebay for even less. They would offer more protection than the Nikon bag but less than the ones I just bought.
The #15 bag (largest) fits the Tamron 70-300 perfectly. The #13 bag holds my Nikkor 105 macro - fits nicely. And the small #9 bag holds my Lensbaby Fisheye just dandy.
Might get one more for my Nikkor 60mm macro too. Needs to be shorter than the #13 but same diameter. The #15's diameter is not wide enough for the 24-70mm (82mm lens vs 62mm).
Last edited: