I recently purchased a used D300 and have been toying around a bit with it but have not had much time to really get a handle on it...until yesterday.
My girlfriend and I love old prisons so we went out for a drive to a closed prison in Kingston ON and I got to see what I liked and did not like about this camera. My first impression was that carrying this beast around all day is not a chore with the right kind of strap. I am using a Black Rapid shoulder sling and it does a great kob of taking the weight and stress off of my neck so, the heft of this camera was not an issue for an all day shoot.
The camera felt really comfortable in my hands. The weight made it feel really solid and the buttons and controls were in what, for me, seemd to be a very sensible layout. Maling settings changes on the fly was a breeze compared to my menu driven D5100 (which I love) I did have a bit of difficulty in remembering where everything was but soon got the hang of that.
The image quality was as good as one could expect from a 10 year old camera body. In my mind, a camera that delivered stiunning images 10 years ago will still do so today, given that it is in good condition. The camera does not get worse just because advancements are made in newer bodies....truth be told, my photos sucked but it was surely not the fault of the camera. The built in flash is more than adequate and gives wonderful exposures. I had many chances to use this in the old jail. It never disappointed.
I must say that I could not be happier with this camera, given its age and relative "limitations," such as poor high ISO quality. I did find the shutter to be a bit louder that I am used to but it does give a loud and reassuring CLICK. I was also very pleased that I was able to use it in the rain that we ran into on our way home. So, overall, this camera is everything I could use in a backup body. In fact, I would not be at all upset if I had to use it as my primary body/ I would like to go into more detail but i still need more time with it.I only got off about 100 frames yesterday so I am sure that i will have more to say later. Right now i am very pleased.
Cheers,
Brian J.
The photo is of The Glenora Ferry near Picton ON just as the rain was starting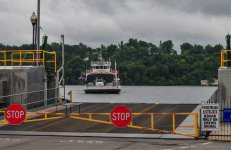 Last edited: