I've been scarce for some time here, but I needed to drop in if only to post this incredibly disturbing story.
Controversy over out of state photographers in McDowell Co. - WVVA TV Bluefield Beckley WV News, Weather and Sports
It angers me more than normal for very personal reasons. You see, two and a half weeks ago I went out for a morning walk, taking photos of the foggy morning as I walked the 2 mile "block" I live on. At one point, as I was taking a photo a school bus pulled up next to me and stopped. I squeezed off a single photo of the front of the bus thinking it was a perfect "stock photo"...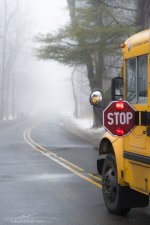 I continued walking and shooting for the next 20-30 minutes. I was less than a 1/4 mile from home when a police car slowed behind me after I'd crossed the road. I waved, thinking he was going to caution me for crossing the way I did, but he then pulled across the road, blocking me and pointing for me to take a step off the road. He exited the vehicle and asked what I was doing. I told him I was taking photos of the foggy morning. He asked if I had taken photos of any children. The school bus registered in my head and I told him, "I took a photo of the front of a school bus, but that's it. I know enough not to be taking photos of children." His response? "Do you watch Channel 69? You know there have been child abductions." Holy crap, here we go.
Within minutes I had 4 township cops questioning me because a kid on the bus told the bus driver "a man is taking pictures of kids getting on the bus!!", and the bus driver (doing their job) told the school principal who told both the police and the kids' mom. Nothing I did was illegal, and frankly it wasn't even inadvisable since I made sure I never once aimed the camera towards anyone on the bus. I was held against my will for 20 minutes within site of my house because of one fearful kid and lack of ID (who carries their wallet on a morning walk?!). I cooperated fully because it involved children, I showed my entire set of photographs to 3 different cops but still wasn't allowed to leave until one of them took an iPhone photo of my school bus photo that they could share with the mother (apparently my offer 10 minutes before that to have them take me to my house around the corner where I offered them a dump of my memory card wasn't sufficient).
I've been pissed every since, and a little concerned as I've yet to be able to ascertain if my name is listed on any report where a suspicious and angry parent can read it. With that said, after reading this I'm quite thankful that it was 4 cops that showed up and not the husband/boyfriend of a freaked out woman. This country has gone to sh*t, and it's not showing any sign of changing. We're all one pissed off, gun toting, stand your ground dumbass away from a dirt nap, and for a guy that always has a camera with him that's unbelievably scary. I hope some major civil rights attorney gets with this couple and sues the living hell out of those backward idiots and the cop who was ready to haul in the folks that don't look like they belong. Look, I get the desire to protect your kids, but this isn't how you do it.
And since when did a middle-aged man with a camera become the stereotypical pedophile?!