This is a photo of Leeds united's Pontus Jansson (White). I like this photo as I do not have time to compose the shot for taking photographs from the stands is not allowed, photographs are only allowed by official photographers of the press.
I took it in colour and converted to B&W then cropped in NX-D. I would love to be able to take photographs of my favourite soccer team but us supporters are not allowed to.
I think that this photograph is remarkable for I took it from my disability scooter whilst spraying and preying.
Over to you guys.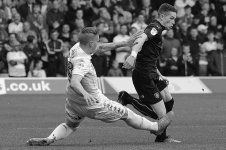 Nikon D7100
70-300mm f/4.5-5.6
ƒ/5.3
226.3 mm
1/1250
1000
Flash (off, did not fire)
Show EXIF